Mike Jackofsky on Hollow Vessels
Description
2-Day hands-on class on Sunday May 6th and Monday 7th. Class is limited to 10 students. Full size lathes, tools, and practice wood are available. Lunch will be provided.
There will also be a Demo on Saturday at Woodworker's Emporium from 9am to 4pm. (YES, we will be open extended hours that day) Cost is $35 for LVWA members and $40 for non-members (pay at the door). A box lunch will be provided.
The class focuses on having fun making hollow vessels. Most students end up doing 2 projects per day, with each project adding a little extra degree of difficulty, proceeding to a level each student is comfortable with. Beginners are not expected to work at the same pace as more advanced students. We will start out with an open bowl, to learn how to hold and use different hollowing tools.
Students are encouraged to bring whatever hollowing tools they have, and Mike will have some extras of his tools to share with the class. This project gives students a chance to watch the tools cut and is important in learning to hollow.
Each project after that will use smaller openings, making it more difficult as we go. So, beginners will work on pieces they are comfortable with, mainly using straight tools, which are much easier to control, while more advanced students with hollowing experience can choose their own level of difficulty.
Mike will work with each turner individually. The goal of this workshop is to increase each student's experience and skill level, no matter what level you are starting from, while having fun!
Mike will have some tools to loan in case you decide not to travel with your own. We also have various holowing tools you can use. Practice wood is provided but you might want to bring a particular wood you want to turn. Mike recommends wood still a little bit wet but not so fresh that water is flying off. Trees that have been down for about 6 months are a good choice. Better if not completely dry.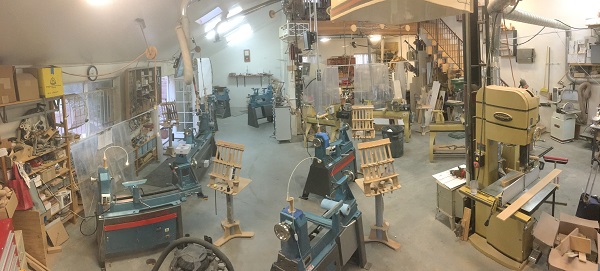 The class will take place at Christian and Jeri Brisepierre's workshop, about 7 minutes from Woodworker's Emporium.
We will have coffee break in the morning and afternoon and lunch prepared by Jeri.
Mike Jackofsky specializes in hollow vessels, most of which are natural edge pieces made from unique burls, but he also turns bowls, including thin, natural edge open bowls, off balance asymmetrical pieces, hollow forms with "wings", and sculptural forms.
Mike has been a "featured presenter" at the Utah Woodturning Symposium in Provo, Utah, the SWAT Symposium in Waco, Texas, and the American Association of Woodturners (AAW) symposiums in Portland, OR, and San Jose, CA. He has also participated a number of times in the Emma Lake Collaboration in Canada and has had his work selected for the AAW exhibitions Put a Lid On It in 2003, Spirit of the Southwest in 2009, Maple Medley in 2010, and Roots in 2011.

Mike's work is represented in many private collections around the world and is on display in the permanent collections of the Sam Maloof Historical Residence Museum in Alta Loma, CA, the Mingei International Museum in San Diego, CA, and the AAW collection in Minneapolis, MN. He received "Best of Show" at the AAW sponsored California Contours show and he has won numerous awards at the San Diego international Design In Wood exhibition, including more than 10 first place awards. In 2008, he was the subject of a feature article in the January issue of Woodturning magazine, and in April of 2012, he was the author of a feature article in the AAW Journal titled "Working With Burl-Making Natural Edge Hollow Vessels." In 2011, Mike released his first tutorial DVD, a two disc set titled, Woodturning With Mike Jackofsky: Making a Hollow Vessel, and his signature Hollow-Pro™ Tools have become very popular with hollow vessel turners around the world.

Mike lives in the north county area of San Diego and is a graduate of Georgetown University and the University of San Diego School of Law. He conducts workshops, demonstrations, and classes at many woodworking clubs in the US and Canada, including his "Signature" 5 day classes at Craft Supplies USA School of Woodturning in Provo, Utah, and occasional private classes at his studio.
View All
Close
Additional Information
| | |
| --- | --- |
| Class Date: | Sunday May 6th and Monday 7th |
| Class Time: | 8am to 4pm (Lunch provided) |
| Demo Date: | Saturday May 5th |
| Demo Time: | 9am to 4pm (extended store hours) |
| Demo Location: | |
| Demo Cost (pay at the door): | $35 LVWA Members, $40 non-Members |
View All
Close