Vermec Sphere Jig
Availability:

Normally Ships in 1-3 Business Days

Shipping:

Calculated at Checkout
Description
Create perfect spheres every time! The Vermec Sphere Jig can be used on most lathes with center heights between 125mm and 300mm (5 to 12 inches). See chart below to find out which sphere jig you need for your lathe.
The vermec sphere jig can be used internally and externally, meaning not only can you create perfect sphere's, you can also use it to hollow bowls. The sphere jig has a fine Adjustment, so it is easy to get the sphere exactly the size you want it. Jig uses a Hunter #2 Cutter.
Please provide lathe center height and bed slot size in the comment box (above). Please be as specific as possible when providing measurements. The jig has to be adapted specifically to each lathe, and it must fit perfectly to function properly. In many cases, custom pieces have to be milled, which will add a few days to delivery time.
The chart below is an approximation, the diameter of spheres you can turn will vary slightly depending on the exact spindle height of your lathe. Make sure you match up the correct jig for your spindle height. Lathes with a 5" or 6" spindle height will require a Small Jig, 7" or 8" will need a Medium. A lathe with a 10" spindle height (like the Powermatic 3520B) can use either the Medium or Large, but you can turn a slightly larger sphere with the Medium. Any lathe with a 12"+ spindle height will require a Large Jig.
| | | |
| --- | --- | --- |
| Center Height | Jig Size | Diameter Range (approx) |
| 125mm (5") | Mini | 10 - 100mm (3/8" to 4") |
| 150mm (6") | Mini | 10 - 150mm (3/8" to 6") |
| 175mm (7") | Medium | 10 - 130mm (3/8" to 5") |
| 200mm (8") | Medium | 10 - 180mm (3/8" to 7") |
| 250mm (10") | Medium | 10 - 200mm (3/8" to 8") |
| 250mm (10") | Large | 10 - 190mm (3/8" to 7.5") |
| 300mm (12") | Large | 10 - 280mm (3/8" to 11") |
For a short demonstration of the Vermec Sphere Jig by Guilio Marcolongo, see the video below.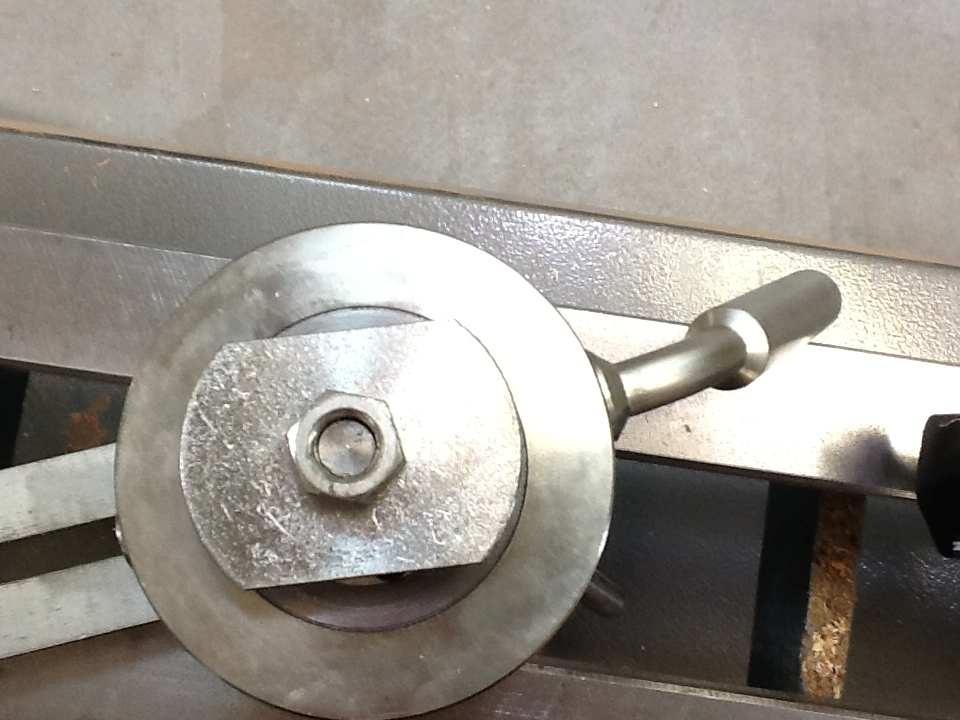 Clamping Plate Modification
If desired, for a small fee we can also modify the clamping plate. The plate is round by default, so you will have to either remove the clamping plate or your tailstock to attach it to your lathe. The modification makes the plate flat on two sides to fit between your bed ways, eliminating the need to remove anything to attach the jig to the lathe.
View All
Close
4 Reviews
I was skeptical to purchase a tool of this type but did because I needed to make alot of spheres and I wanted them to be perfect. I did some reading and research and decided to purchase the Vermec. As the headline states, this tool is one heavy duty piece of steel, it's gotta weigh 10+ lbs. It's extremely well engineered, solid steel and the post rides on TWO huge bearings. I suspect it will literally last multable lifetimes! Although pricey I believe it was worth it. You just don't see this quality often. I sure hope I never drop it on my foot !

Have looked at numerous ideas & videos for a sphere jig, including learning to cut them free hand.

With the Vermec, my "First Time Use" was amazing, flawless, FUN - even with rookie mistakes. It is very well designed, robust, and very easy to use! I would purchase this machine again, only a lot sooner.

I had looked at several of the available Sphere Jigs on the market before deciding on the Vermec. I read all the reviews I could find, and watched all the demo videos I could find.
I finally decided on the Vermec.
To me, it looked like the best one made, and the easiest to set up and use.
After receiving it, I put it to the "test" right away, and have no been disappointed.
The quality is top notch. The machining tolerances are as tight as you could imagine.
Operation is a cinch.
If I had to do it over, I'd still buy the Vermec. Better than I expected.

Works just as advertised. Very simple to set up and use. I'll refrain from saying that I'm having a ball. Don't much like the new finish.
View All
Close