Stainless Steel Ring Cores
SKU:

UPC:

Availability:

Normally Ships out in 1-3 Business Days

Shipping:

Calculated at Checkout
Bulk discount rates
Below are the available bulk discount rates for each individual item when you purchase a certain amount
| | |
| --- | --- |
| Buy 5 - 19 | and get 10% off |
| Buy 20 - 49 | and get 20% off |
| Buy 50 or above | and get 40% off |
Frequently bought together:
Description
Turn your own wooden rings using these stainless steel bands. Click here for detailed instructions on how to turn your own rings, courtesy of Dave Mueller of aggieturner.com.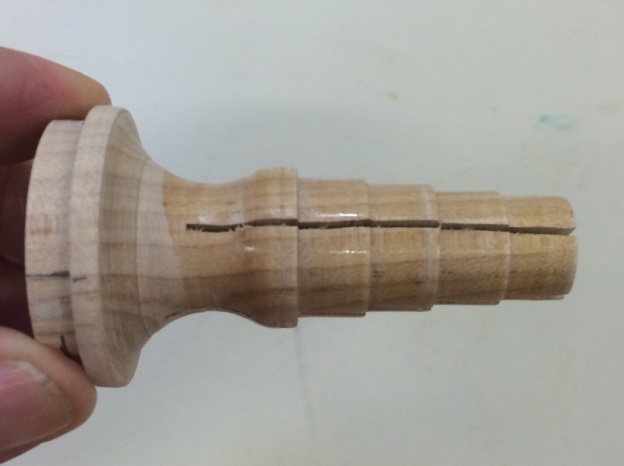 The instructions also go into detail on how to make a ring mandrel.
These are one piece cores, meaning they do not separate. Rings are available in sizes from 5-13. Sizes 5-8 are only available in 6mm width, Sizes 9-13 are now available in 6mm or 8mm. Sorry, half sizes are not available.
Getting the right hole size for the ring cores is the most difficult part of making a ring since they don't exactly match any standard drill bit sizes The best way to make the core fit is to find the closest (smaller size) drill bit and widen the hole with a small skew chisel or scraper. Click HERE for instructions on how to make a special ring tool out of a regular wood chisel.
| | | |
| --- | --- | --- |
| Ring Size | Ring Core O.D. | Closest (Smaller) bit size |
| Size 5 (6mm) | 0.766" / 19.4mm | 3/4" or 19mm |
| Size 6 (6mm) | 0.806" / 20.4mm | 51/64" or 20mm |
| Size 7 (6mm) | 0.836" / 21.2mm | 53/64" or 21mm |
| Size 8 (6mm) | 0.868" / 22.0mm | 55/64" or 22mm |
| Size 9 (6mm) | 0.899" / 22.8mm | 57/64" or 22mm |
| Size 10 (6mm) | 0.933" / 23.7mm | 59/64" or 23mm |
| Size 11 (6mm) | 0.973" / 24.7mm | 31/32" or 24mm |
| Size 12 (6mm) | 1.009" / 25.6mm | 1" or 25mm |
| Size 13 (6mm) | 1.044" / 26.5mm | 1-1/32" or 26mm |
| | | |
| Size 9 (8mm) | 0.903" / 22.9mm | 57/64 or 22mm |
| Size 10 (8mm) | 0.936" / 23.7mm | 59/64 or 23mm |
| Size 11 (8mm) | 0.971" / 24.6mm | 31/32" or 24mm |
| Size 12 (8mm) | 0.997" / 25.3mm | 63/64 or 25mm |
| Size 13 (8mm) | 1.033" / 26.2mm | 1-1/32" or 26mm |
***Please note this chart is for reference only. We have noticed slight variances between batches and cannot guarantee every ring will be exactly this size.
View All
Close
15 Reviews
I recently purchased the stainless steel wood ring cores available at Woodworkers Emporium. To date these are by far the best, most economical cores I've found. Due to the thin profile of the core, they are very comfortable to wear. I'lll definitely be acquiring additional cores. Also great, fast service.

I have been experimenting lately with ring cores from a number of different manufacturers/vendors. The ring cores from Woodworkersemporium are the best i have tried based on design, cost, comfort, and salability.

Very good quality I will be ordering more I like the price and it's exactly what I'm looking for

STAINLESS STEEL RING CORES

real good

I like the way the OD is 3 ring for a stronger cement bond to the wood.

great product, easy to use

I have used these ring cores before and they are high quality and much easier to make rings with. Cuts down on the time it takes to complete a ring by about 30%. It would be nice if the larger sizes were a bit wider, but all in all a great quality core.

I had looked at many companies for cores to make some rings. A few points that sold me was the grid like outer diameter that allows for a better adhesion to the wood.
The very smooth curved inside to make it comfortable to wear.
Even though the price was higher than many, they are well worth that cost.

Thesecond ring core are easy to work and looks great when finished

https://scontent.fphl2-1.fna.fbcdn.net/v/t31.0-8/fr/cp0/e15/q65/18318942_10154753673044773_1159418945011408127_o.jpg?efg=eyJpIjoidCJ9&oh=d72f6c4bcb20e7d81d2c6d8600c2d86f&oe=59BC1F45

Possibility of slightly wider cores???

Bought about 20 of your cores and they are amazingly simple to use and all the rings I have made have come out looking great. Is there any possibility that you may have some of the larger sizes (8-13) a bit wider in the future? Maybe 3/8". I am using 3 3/8" pieces glued together separated by a thin veneer so I can't use the cores for those rings.

View All
Close